Part 2: Getting Started
Part 3: Finishing
The Ph.D. thesis is "La Grande Finale" of a big research project and an ideal place for passing on knowledge, insight, and ideas to other researchers and future Ph.D. students. At the same time, writing the thesis can seem like a daunting task, akin to climbing a mountain.
I wrote my own Ph.D. thesis in the Summer and Fall of 2015, and defended it in December 2015. Writing the thesis was demanding and taxing, but at the same time fun and educational, and with a bit of preparation the entire process can become a lot smoother and very rewarding.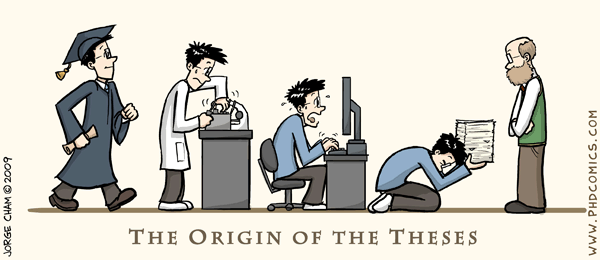 In this and two upcoming posts, I share my tips for an optimum "Writing the Ph.D. Thesis" process. I split my own thesis writing into three phases that I'll cover in the three posts:
Part 1: Preparing
Part 2: Getting Started
Part 3: Finishing
The points I'll cover in this post are the following:
Part of this post is inspired by an earlier blog post (in Danish).
Background and facts of my own Ph.D. project and thesis
I started my Ph.D. project in October 2012 and finished my Ph.D. thesis in October 2015. In Denmark – where I did my Ph.D. – the length of a Ph.D. project is three years, so I knew essentially from the first day of my project when my thesis was due.
I did my Ph.D. project within the branch of physics called nanophotonics, with a focus on theory and numerical computations.
I decided to write a monograph, as opposed to an article thesis, since I believed – and still believe – that this kind of thesis is the best way to round off a big project and pass on knowledge and ideas.
When I started writing my Ph.D. thesis, I had four published journal articles and two manuscripts in preparation. In addition, I had nine conference contributions (proceedings, abstracts, and posters). During the thesis writing, I came up with an idea for a new journal article that I wrote and submitted at the end of September 2015.
Thesis writer by day, Paper writer by night. #PhDLife #ResearchLife #WriterLife #KeepGoing #PhDThesis #Research

— Jakob R. de Lasson (@Jakobrdl) 24. september 2015
I started writing my Ph.D. thesis in mid-July 2015 and finished it at the end of October 2015. During the writing of the thesis, I did a small bit of work on unfinished projects and wrote the manuscript mentioned above – but otherwise worked full time on the thesis.
My Ph.D. thesis consists of two introductory chapters, seven content chapters, and a concluding chapter. In addition, six appendices supplement the main text. The length of the ten chapters is 122 pages, the length of the appendices is 22 pages. Finally, the bibliography contains 251 references.
When should I start?
In the first half of 2015, I was considering when to start writing my thesis, and in this process I tried to assess how long time I would need for the writing. I talked to a previous Ph.D. student in my group – that had done a project similar to mine – and he told me that the two months he had set aside for writing his thesis had been a bit too short.
Therefore, I decided that I would need three (or maybe three and a half) months for writing my thesis. With a due date in late October, I thus tentatively decided to start writing in mid-July.
In the end, I felt that this amount of time was ideal for writing a thesis of the extent described in the previous section. On the one hand, I had time to fiddle a bit with more investigations during the writing – which, among other things, lead to one new journal article that I hadn't thought about when I started writing – and on the other hand, I only just finished the thesis and proofreading the day before the submission deadline.
Mindmap: What research did I do?
Some months before starting the writing of the thesis, I wanted to get an overview of my project to better understand what I had been working on, and how different parts of my project were related and connected.
To that end, I made a first version of a mindmap of my project. This mindmap included topics, subtopics, methods, structures, and publications – each represented by boxes with different colors in the picture in the below tweet. And a lot of connecting lines.
Overview v1.0 of my #PhD project before starting to write the #PhDThesis. @MindMup @DTUtweet #DTUFotonik #Photonics pic.twitter.com/dGNTjqHFYR

— Jakob R. de Lasson (@Jakobrdl) 29. april 2015
Later, closer to the starting date for my writing, I discussed this mindmap with my supervisors and updated it slightly. The map helped to see the connections in my project, and I believe that the flow of things in my thesis has benefited from this initial overview.
A mindmap is a good starting point, but to get closer to the actual writing of the thesis, a skeleton for the thesis – a first draft for the table of contents – was needed.
And my #PhD supervisors were like: "Don't you have a normal table of contents? This is too fancy for us". #OldSchool https://t.co/F8A1WfzyAh

— Jakob R. de Lasson (@Jakobrdl) 15. juli 2015
Table of contents: The skeleton of the thesis
I made a draft for the table of contents for my thesis, which, with the mindmap of my project described in the previous section, was surprisingly easy.
Table of contents v1.0 for my #PhDThesis. Now I "just" need to write it all. #PhD #Research #Nanophotonics #DTU pic.twitter.com/yPrgbI66u6

— Jakob R. de Lasson (@Jakobrdl) 15. juli 2015
The draft consisted of ten chapters – that my thesis in the end also consists of, some with modified titles – and an outline for sections and subsections in these chapters. The specific sections and subsections and their order were changed in the course of the writing, but the draft was a very good starting point. With this draft, it was easier to figure out what to write first and what to write next, and writing each chapter was also made easier with the rough outline that section and subsection titles constituted.
Document template: Keep it simple
As a final preparation, I set up a document template for my thesis. I wrote my thesis in LaTeX, and to avoid spending too much time on the layout and document settings I kept it simple and started with the template from my M.Sc. thesis.
Later, when I had written a part of my thesis – and thus had some content to tweak the layout for – I customized the template and document layout. It is easy, especially with LaTeX, to get caught in an endless loop of document tweaking – which can be draining and counterproductive when the goal is to get results and thoughts down on the paper.