A while ago I and other researchers received an official recommendation from our university DTU to sign up for a so-called ORCID (Open Researcher and Contributor ID), as explained in more detail by the DTU Provost in this video.

According to the ORCID homepage "Registration takes 30 seconds", and I almost went on to register without thinking more about it – but then paused for a second to ask myself whether I actually need an ORCID. The aim of ORCID is to "create and maintain a registry of unique researcher identifiers and a transparent method of linking research activities and outputs to these identifiers", which in principle sounds appealing; I'd like for others to easily be able to get an overview of my scientific production, and this appears to be exactly what ORCID provides.
However, it sounds a lot like ResearcherID: "a solution to the author ambiguity problem within the scholarly research community. Each member is assigned a unique identifier to enable researchers to manage their publication lists, track their times cited counts and h-index, identify potential collaborators and avoid author misidentification". And indeed it is possible to link ORCID with ResearcherID – as well as other researcher identifiers – to tie the information from various platforms together.
I have for a couple of years had a ResearcherID profile, but I never used it a lot – and never talked to other researchers who appeared to be using it actively (even though one group at my department seems to be using it consistently).
My ResearcherID list of publications isn't fully up to date, and before writing this post I wanted to update it – since I don't like for my public profiles to not be up to date. Therefore, I logged in on ResearcherID and chose "Add Publications", which sent me to the page shown below.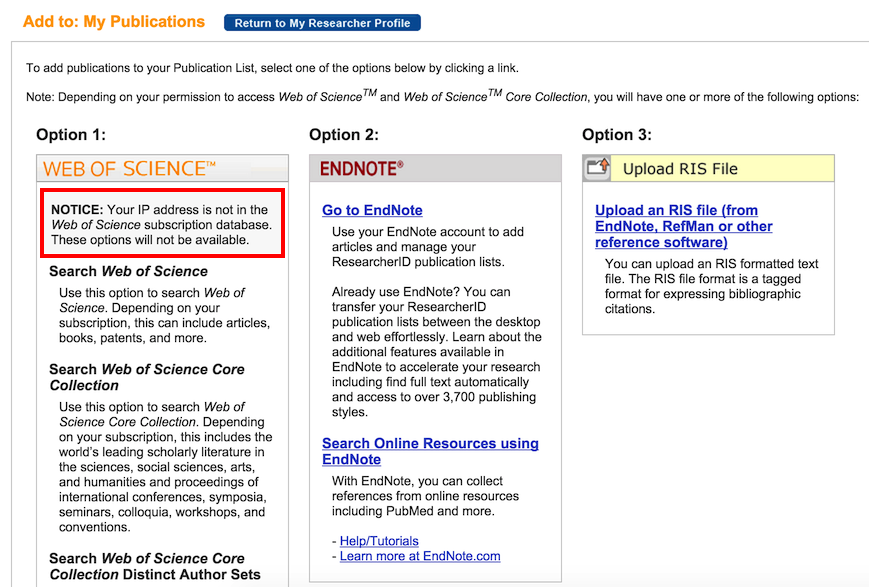 Ideally, I would want to use Web of Science where I can search and find my publications and add them to my ResearcherID profile; tying the entries in my ResearcherID profile to the Web of Science database is convenient since it then automatically includes citations registered in that database.
However, as my "IP address is not in the Web of Science subscription database" (see red box in the above picture), this was not possible. I probably need to visit the site when I'm online at my university, and there might be ways to get access when I'm online elsewhere. But in a nutshell this is exactly why my ResearcherID profile is not up to date: It's simply too tedious to update it manually, especially when I cannot enter Web of Science no matter where or when I want to do it. If I had a feeling it was important, because other researchers were using ResearcherID actively, I would probably dedicate more time and energy to it – but as mentioned previously that doesn't seem to be the case.
In contrast to this, my Google Scholar profile stays up to date automatically, and if I want to make additions or changes to the profile, I can do it where or when it suits me. I'm well aware that Google Scholar citations can be gamed, and that Google Scholar citation numbers should be taken with a grain of salt. But nevertheless it provides a seamless system and a unique identifier for researchers that sign up for a profile. And, probably most importantly, it appears to be a tool that researchers use actively, to find publications on specific topics or from specific authors.
I didn't sign up for an ORCID, and based on my experience with ResearcherID – that I find tedious and not particularly useful, especially in comparison with Google Scholar – I'm not convinced I will do so.
Researchers, do you have an #ORCID? Is it any better or more useful than a #ResearcherID? #Research #Science #Publishing #DigitalIdentity

— Jakob R. de Lasson (@Jakobrdl) 15. februar 2015
But please enlighten me on the things I might have misunderstood about how to use ORCID or ResearcherID, or why they are important and useful, in general or as compared to Google Scholar – in the comments below or by replying to the above tweet.