Part 2: Scientific publications
Part 3: Work notes, documents, slides, web clippings and textbook scans
Every day I'm exposed to a lot of information, in the form of articles, blog posts, scientific papers and a lot more, and at times coping with all of it can seem daunting and never-ending.
Before, I would often interrupt what I was in the middle of doing, when I found an interesting read, or continue to do it and forget about the interesting read – both of which were frustrating.
Therefore, I set out to establish systems to tame the information overflow, in a way that, on the one hand, allows me to collect, read, process and archive the information, and on the other is as seamless and with as few disturbances as possible.
In this and an upcoming post, I share details of my systems for handling all the information; in this post, I focus on everything not related to my work (news articles, blog posts, social media links etc.), while in the next post I address my information system for work (scientific articles and notes).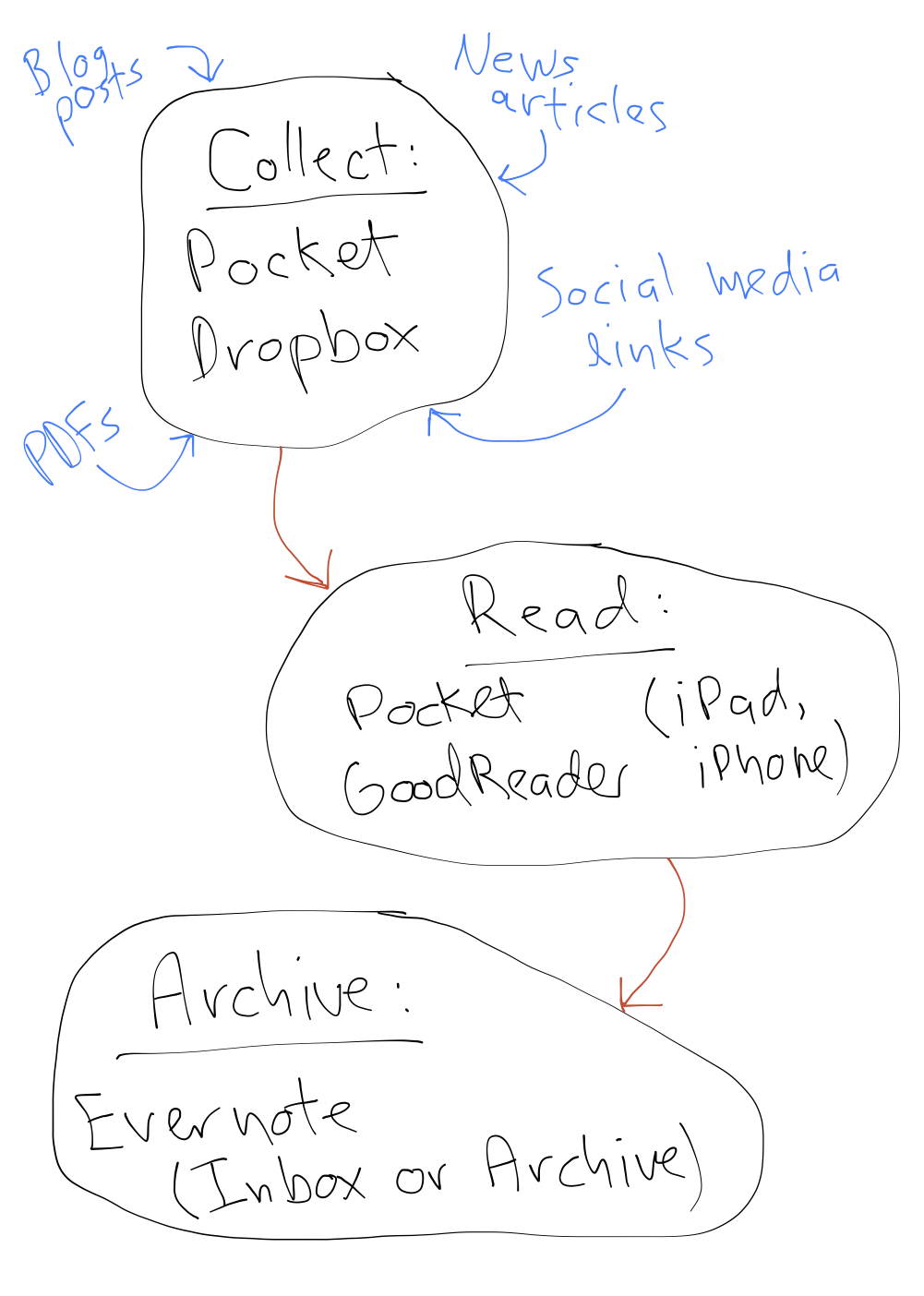 An overview of my system can be seen in the above picture, and the points I'll cover in this post are the following:
The philosophy behind my information system
What I want is to be able to collect, read and find later again the interesting information I stumble upon, no matter where or when it happens. I want all parts of the system to be quick and easy, so that none of it becomes a hassle, and I want all steps to be unambiguous.
Collecting information means having suitable places to store it until reading can take place; reading means having it accessible when I have time to read; finding it later again means archiving it somewhere that is easily searchable – and all these points are covered in the following sections.
To ensure that all parts are quick and easy, I use well-developed services that I can use on all platforms, whether I'm on the go, at home, in the office or somewhere else. To avoid ambiguity, I avoid spreading the information to different places; that way I always know where to collect, read and find it.
Sources of Information: Social media and RSS feeds
There are many sources of information, but the two main ones for me are social media (Facebook, Twitter and LinkedIn) and RSS feeds (Feedly). Since I use social media throughout the day, information appears from these sources at all times. In contrast, I only read my RSS feeds when I open the Feedly iOS app, which I mostly do at home in the evening or during weekends.
When I have time, I read the information – for example, news articles or blog posts – directly in the Internet browser or in the social media or Feedly apps. If I want to save it for later reading, I send it to Pocket or Dropbox – which is where I collect information for reading.
Collecting Information: Pocket and Dropbox
If I don't have time to look into the information when I find it, I store it in one of two places: Pocket for everything from websites (articles, blog posts, social media links etc.) and Dropbox for PDFs. By far the most information is of the former kind, and I thus mainly collect reading in Pocket.
In Google Chrome on my laptop and desktop at work, I use the Save to Pocket browser plugin, while on iOS I use the Pocket bookmarklet – which makes saving information from an Internet browser into Pocket extremely seamless.
On iOS (iPhone and iPad), the Twitter and Feedly apps have Pocket set as my preferred "Read it later" service, and I thus have buttons to save links directly into Pocket. In the Facebook iOS app, I copy links and open the Pocket app – that prompts me to save the link into Pocket. Surprisingly – and idiotically – the LinkedIn iOS apps only have an "Email Link" option. So here I first have to choose this option, then mark and copy the link and then open the Pocket app.
Dropbox is available on all my computers and mobile devices, so whenever I find a PDF for reading later, I save it into Dropbox.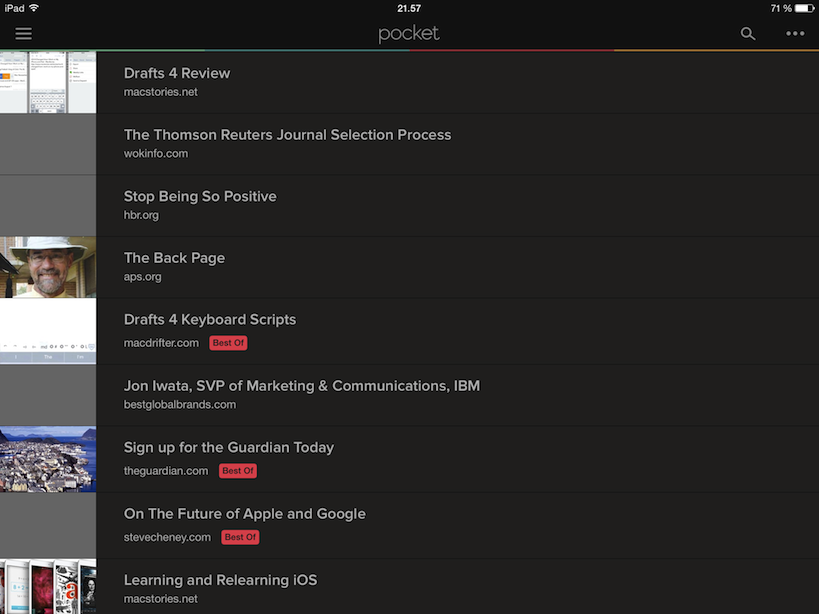 In Pocket, the information is stored in one long list, while in Dropbox I have a dedicated folder for PDFs I'd like to read. The information to be read is not stored anywhere else – not in Evernote, not in other folders in Dropbox, nowhere else. It is thus fully unambiguous to collect the information, and with Pocket and Dropbox available everywhere also easy in all situations.
Reading Information: Pocket and GoodReader
Most, if not all, reading of collected information takes place on my mobile devices. When I travel without my iPad, I sometimes read on the iPhone, but otherwise most of the reading is done on the iPad.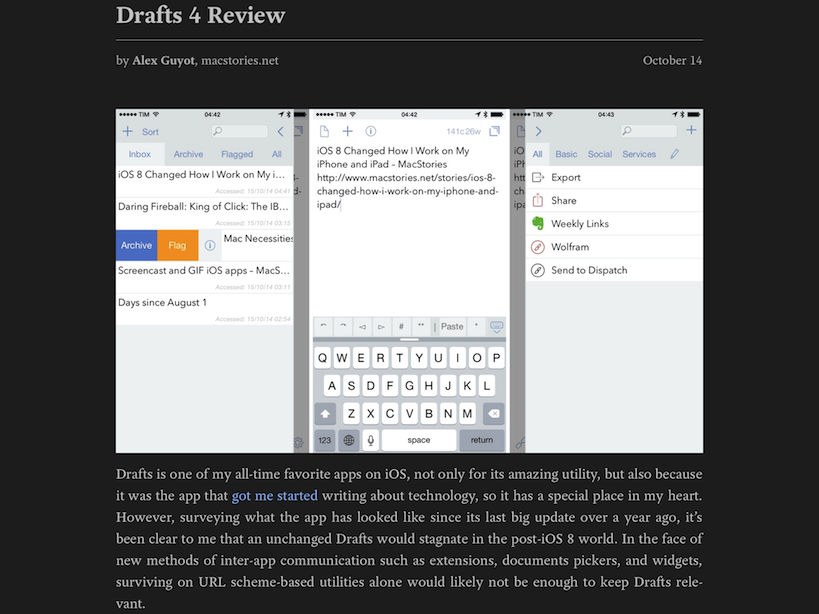 On both devices, I use the Pocket app to read information stored in Pocket, and GoodReader to read PDFs. In GoodReader, I sync the PDF reading folder from my Dropbox, making new items added to this folder available when I'm on the go.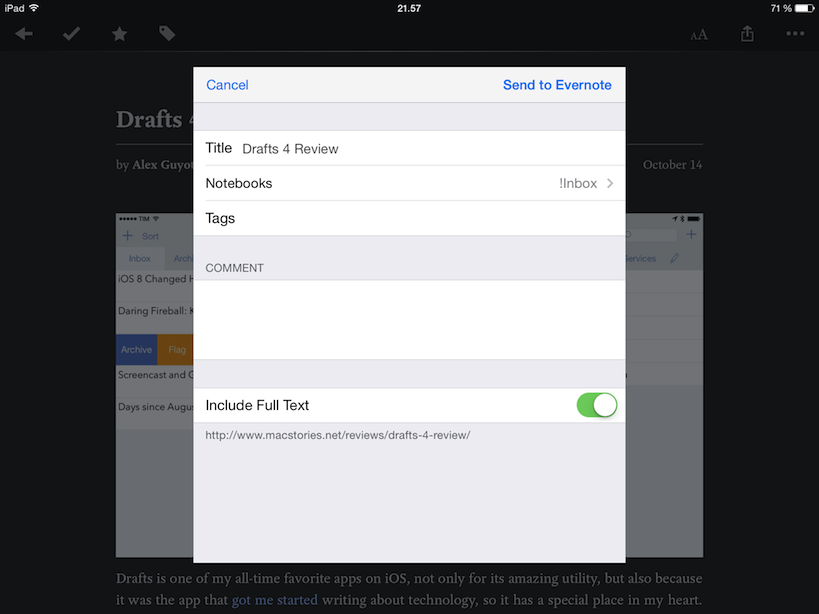 When I've read an item in Pocket, I send it to Evernote. This functionality is directly available in the Pocket iOS apps, where it is also possible to "Include Full Text" – which I always do. If the item is to be archived directly, I send it to the "Reading" notebook in my "Digital Archive" stack; if I want to review the item – for example as inspiration for a blog post or for posting on social media – I send it to my "Inbox" notebook (more on this in the next section). I don't add tags to the items when sending them to Evernote, but in Pocket I tag and archive them. Right now, I don't use the Pocket tags for anything, so I might stop tagging them there and simply archive them in the future.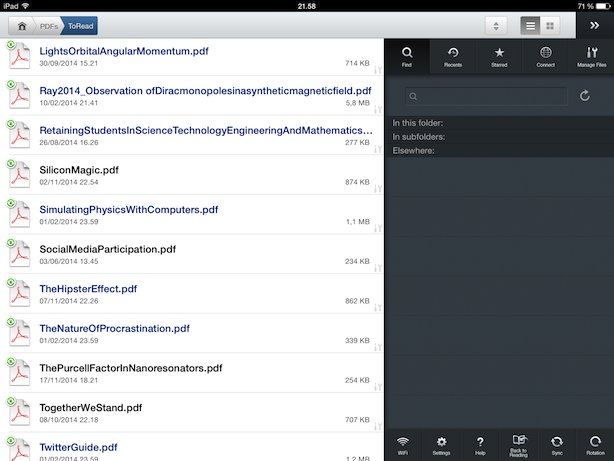 In GoodReader, I read and possibly annotate the PDFs. When I'm finished reading, I move the PDF from the "To Read" to the "Read" folder, and this is later synced to the Dropbox folder. Depending on the size of the PDF, I might add it to the "Reading" notebook in Evernote, as I prefer to have all the information in Evernote where I can more easily search and find it later again.
Archiving Information: Evernote
As mentioned in the previous section, I store most of the information that I have collected and read in my digital elephant memory Evernote. Most of the information I've read goes directly into the "Reading" notebook, where I can search and find it for later reference. For example, recently I had a discussion with colleagues about ResearchGate and Google Scholar. After the discussion, I recalled a couple of articles I had read on this topic, and it was quick to find these in my "Reading" notebook and forward them to my colleagues.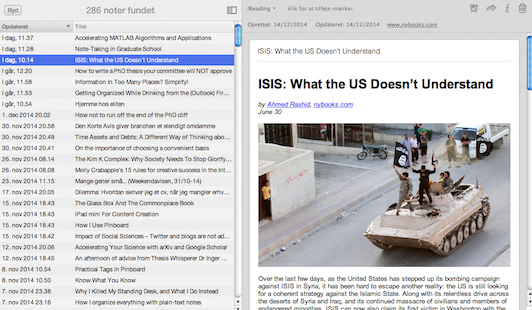 Occasionally, I want to review the information before I archive it in the "Reading" notebook, and I then send it to my "Inbox" notebook in Evernote. When I've looked it over in there, I move to the "Reading" notebook.
I never tag these items in Evernote since I can always find what I look for by merely searching in Evernote. As mentioned in the previous section, I include the full text when I send information from Pocket to Evernote, so in case something is no longer online when I need it, I still have a copy of the entire text – which furthermore facilitates searching and finding items in the "Reading" notebook.