Last year, I outlined a number of digital services and apps that I use as part of Living Digitally, of which I still use several on a regular basis. However, new services and apps have become part of my digital habits, and I therefore decided to write an updated 2014 edition of the post from last year.
As mentioned in last year's post, there is a vast and ever-increasing number of digital services available and plenty of possibilities for using these to live smarter, and with this 2014 edition I hope to inspire you to expand your own ways of living digitally.
The digital services and apps I'll cover are the following:
Digital content hub: Evernote
Evernote was already part of my digital habits last year, but has since taken over from Simplenote for notes – and has, more generally, become my digital content hub, both privately and for work.
I use Evernote for organizing all my work, including work journals, meeting minutes, PDF annotations (that I export after reading in GoodReader on the iPad), literature reviews and a lot more. Privately, I store food recipes, receipts of things I have bought (typically scanned with Genius Scan), all my social media posts and links, all my blog posts and all blog posts and articles I read online to name but a few.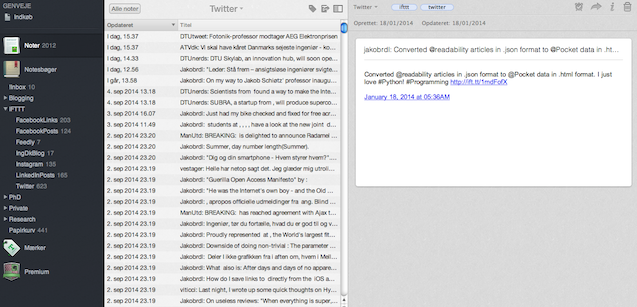 I thus vividly recommend anyone to get started using Evernote; you may not love it in the beginning, but the more content you add to Evernote, the greater its value will become.
Reading later and on the go: Pocket
As I've written about earlier this year, using a read-it-later-service like Pocket is useful to collect all the articles and blog posts you want to read at some point – but that would distract you in what you do right now. I mainly read the texts I collect in Pocket during the weekend and when I travel where I have better time – and which makes me procrastinate less while at work.
In last year's post, I mentioned Readability, but have since changed to Pocket that is more feature-rich and connects with more services than Readability. I even managed to export all my articles from Readability and import them into Pocket, using a Python script to convert the data into the right format.
Converted @readability articles in .json format to @Pocket data in .html format. I just love #Python! #Programming pic.twitter.com/xSfm9EOmUm

— Jakob R. de Lasson (@Jakobrdl) 18. januar 2014
I have Pocket installed on my iPhone and iPad and use these to add content if I find something interesting to read. In the Feedly iOS apps, I can save articles and blog posts directly to Pocket, and in Google Chrome I use a browser extension to add articles to Pocket directly from the browser.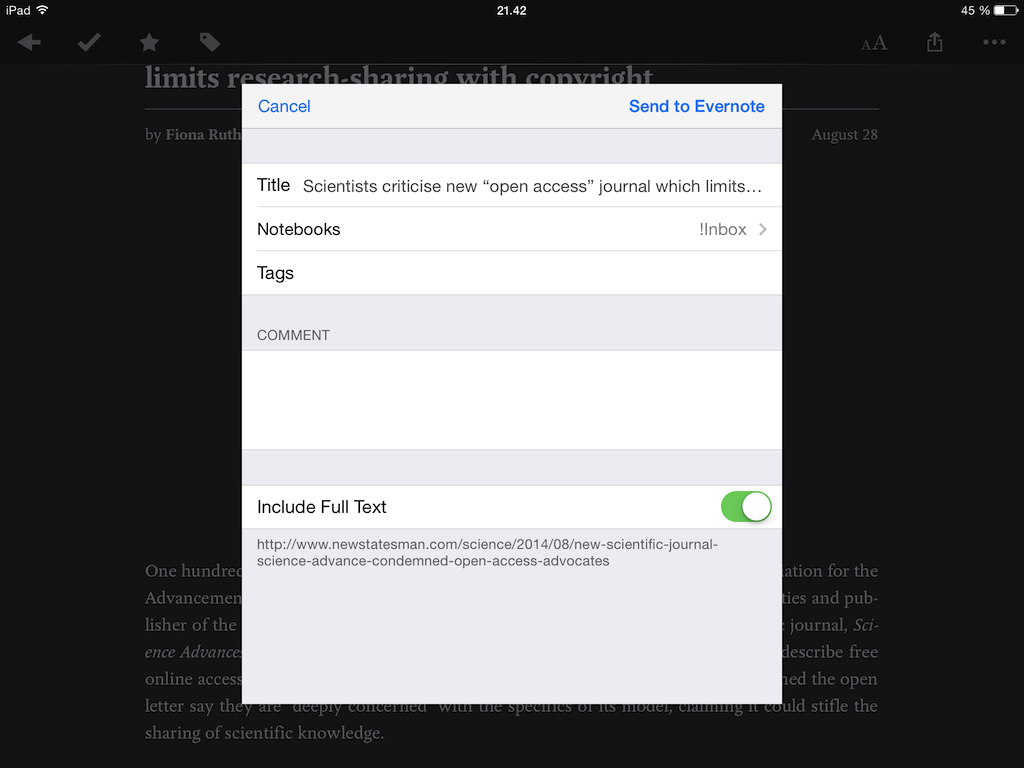 One feature I like a lot in Pocket is its ability to export whole articles and blog posts to Evernote – which, as described previously, I use for storing everything I read digitally.
Text hub in iOS: Drafts
Drafts is an iOS app for iPhone and iPad that has become my go-to app for everything that is text related when on any of my mobile devices – which a lot of things are! The idea is to use the app for storing and processing any type of text, and when the app is opened, a blank note appears, which can be used for copying or writing text directly into – and subsequently the text is processed using Drafts actions.
As examples of usage, I have set up actions for e-mailing myself, for adding rows to Google Sheets, for pre- or appending text to existing Evernote notes and for adding new notes in Evernote in a specified notebook. For example, I have a notebook called "BlogIdeas", in which I collect ideas for future blog posts. When I think of an idea, I fire up Drafts, type in the idea and hit the "Blog idea" action that readily creates a new note with this idea in Evernote.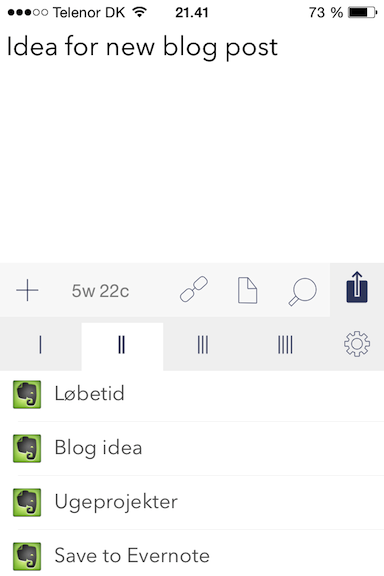 E-mailing myself is not a demanding task; I open the e-mail app, type my own e-mail address, type a subject (typically something I need to remember to look into) and send the e-mail. But it can be done faster with Drafts: Open Drafts, type the subject and hit the action button – and then the e-mail is sent off. Similarly, adding a row to a spreadsheet in Google Sheets or adding a new note in Evernote are not demanding tasks – but they can be accomplished faster with Drafts, which is a reason I like this app.
On top of making certain tasks faster on my mobile devices, I use it for storing and writing text; I write my tweets in there and send them to the Twitter app, and I also sometimes write entire blog posts in Drafts. Likewise, I store quotes and other text bits that I will look into at a later point, and the fact that the app always opens with a blank note makes it fast and easy for this purpose.
Scan notes and documents everywhere: Genius Scan
Scanning notes and documents everywhere is easy with the relatively high-quality cameras that many mobile devices have today, and I use the free iOS app Genius Scan for this purpose. Once scanned into Genius Scan, I export the scans as either .jpeg pictures or PDFs, typically into Dropbox or Evernote.
I use this a lot for back-of-the-envelope calculations in my work, and these notes then go into my work journals for later reference. Similarly, I scan receipts of things I buy and keep these in a notebook in Evernote, and a good scanning app like Genius Scan makes these processes swift and easy.
Short links and link statistics: bit.ly
Whenever I share a link on Facebook, Twitter or LinkedIn, I first shorten it using bit.ly. This shortening has two purposes: It gives me a shorter link than the original one, which is more suitable for including in social media posts, and I get statistics for the shortened link afterwards, for example on how many people clicked the link and where the link was clicked (Facebook, Twitter etc.).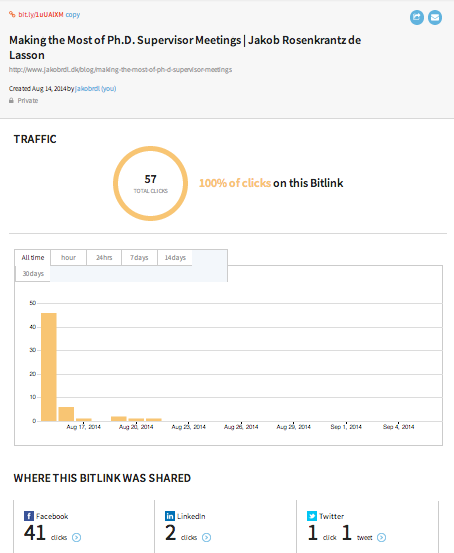 In Google Chrome, I use the bit.ly extension, and on the mobile devices I use the bit.ly iOS app (iPhone only, which I use on both iPhone and iPad). The iOS app gives access to the basics of the link statistics, while more details are available via the bit.ly web interface.
Ending the password hassle: 1Password
You, like I, probably have a lot of online services, for which you have a username and a password – the latter of which, in principle, should be unique and hard to guess for each service. However, in practice many of us don't have the memory to come up with and remember long and unique passwords for each service and end up reusing passwords, thus putting security of the data/files/information we put into the services at stake.
I got fed up with this and decided to do something better: Use an online password manager. Several of these exist, but I had heard a lot of good things about 1Password and bought a license for this software some months ago – and haven't regretted this decision.
1Password is installed on the computers I use, including browser extensions, and on my mobile devices using the iOS apps, and these all read and write to a password encrypted password database in Dropbox. This database contains the passwords for all the services I have put in there and can only be accessed with the master password – that is, with the one password you need to remember. On top of holding this information, the browser extensions and iOS apps can also generate unique passwords for when you change the password in a service or sign up for a new one.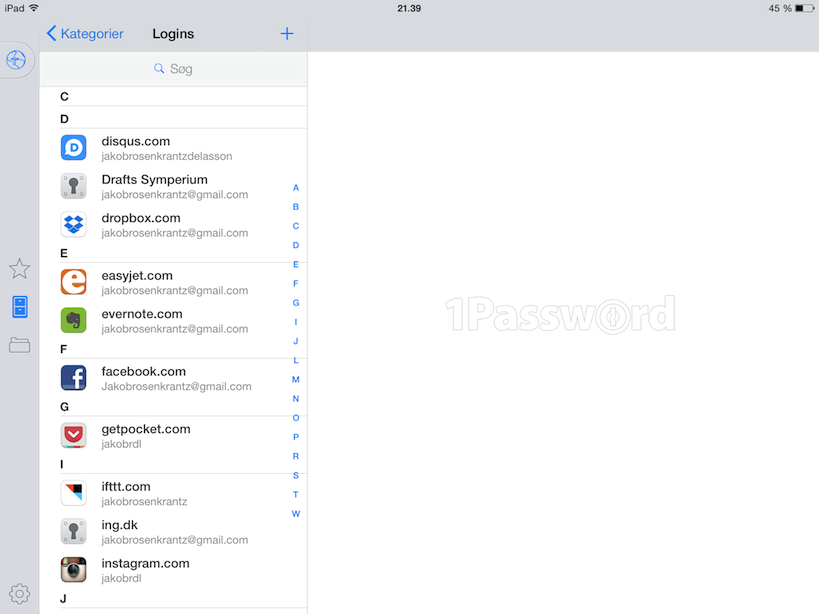 All parts of these processes work seamlessly, and with iOS8 the integration between 1Password and other apps should become even better. I thus much recommend to use 1Password or a similar service to take out the hassle of security and passwords for online services.