A Ph.D. project is at the same time a job and an education towards being a researcher. The first part, the job, is covered by doing research for and with senior researchers and thus contribute to their work and research. The second part, the education, is covered via guidance and supervision from senior researchers, by doing your own small research projects, by communicating your research, both orally and in written, by collaborating with other researchers, by attending conferences and a lot more. All the points forming the educational part of a Ph.D. are important to get exposed to during the Ph.D. project, to get experience with different aspects of research.
Halfway through my Ph.D. project is quickly approaching, and this made me think about the progress I have made on the various points listed above. Also, it inspired me to consider the steps I have taken to conduct my research, organize my work and push my Ph.D. project forward.
In this post, I share my Ph.D. halfway checklist that outlines some of the most important aspects of a Ph.D. project – which are important to get an overview of to be able to plan the rest of the project, and so that changes can be made if something doesn't work as desired.
I believe this will be inspirational for newly started Ph.D. students and for Ph.D. students that are in the middle of the project as myself. The points I will cover are the following:
Structure your literature digitally
Last year, I wrote about my Digital Workflow that I started at the beginning of my Ph.D. project, and I still urge any Ph.D. student to setup a similar system for collecting, annotating and structuring literature systematically – and digitally!
Sooner or later, any Ph.D. student will start writing conference contributions, journal articles and eventually the Ph.D. dissertation, and these writing processes become a lot easier if the literature that the work is inspired by and based on is easily accessible and clearly organized.
A lot of the writing will take place in the second half of the Ph.D. project, so if at this point you still don't have your own digital workflow, now is the perfect time to get started.
Tag and index your reference material
On top of organizing all my literature in a database, I tag it with keywords that attach each reference to a specific part of my project.
As I wrote in a post earlier this year, in my experience you cannot implement this tagging or indexing system right from the beginning of the Ph.D. project since at that point you don't have an overview of the project. But halfway through the project, you should have a fairly clear overview of the different parts of your project, and organizing literature – and possibly other research notes and documents as well – at this point should be straightforward – and help you in advancing your work and in writing documents.
Conduct and write small literature reviews
Having tagged the literature in my literature database, I have groups of literature each representing specific parts of my research (see details in this post). The grouping of references inspired me to start writing small literature reviews for some of these groups that help me get an overview of the topics. This is useful both for my understanding and when writing documents and research notes.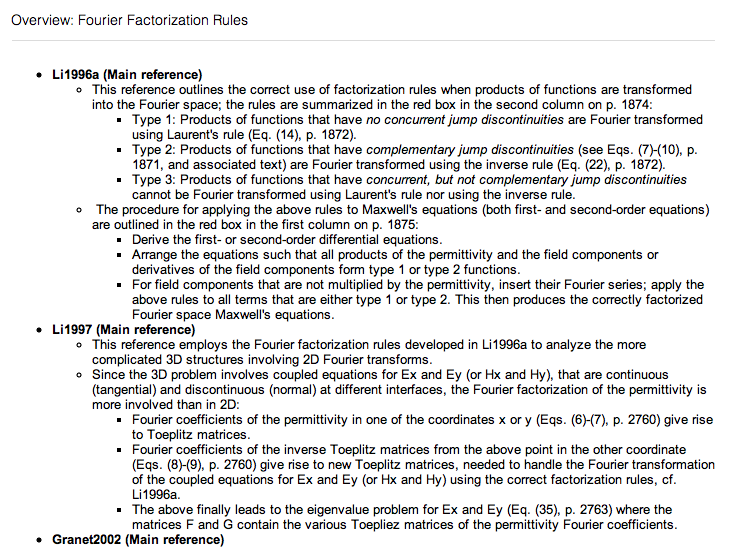 The above picture shows an example of part of one of these literature reviews. The specific topic is the so-called Fourier factorization rules, which play an important role in the computations I perform in my project, and in my literature database I have a collection of references relating to this topic.
In the reviews, I classify references as either "Main reference", "Reference for literature review" or "Nonessential reference". In particular for the first two types of references, I in some detail describe the main points of the reference which will allow to easily return to any of the references at a later point – whether it is to recall my understanding of the topic or for referencing in a document I'm writing. And, needless to say, I write and store the reviews in my elephant memory, Evernote.
Participate in summer schools or workshops
Last year, I participated in a summer school on quantum optics and nanophotonics in France which was an instructive, inspirational and fun experience. It allowed me to meet fellow Ph.D. students as well as senior researchers in my field, and it provided plenty of perspective for my Ph.D. project.
At the school I brought a poster to present some of my work, and I obtained ECTS credits for the participation. Also, I received a small external grant to cover the travel expenses, and I incite fellow Ph.D. students to consider their options for attending similar summer schools or workshops.
Find conferences and submit your work
In the Fall of last year, I was encouraged to start looking for potential conferences to which I could submit some of my work. I searched and assembled a list of interesting conferences, and in November and December I submitted contributions to two of these conferences – which were later both accepted for oral presentations.
I will therefore be attending a conference in Brussels in April and another one in Singapore in May.
It is generally easier to have work accepted at conferences than in journals, and submitting work to one or more conferences can thus be a good starting point for publishing some work. Additionally, preparing and presenting a poster or a talk with your work is an inspirational experience, and you are very likely to learn and be inspired when attending talks at a conference.
So make a list of potential conferences and discuss with your supervisor which might be interesting and what work you can submit.
Plan, write and submit a journal article
Writing journal articles is one of the most difficult and challenging parts of a Ph.D. project; they take a long time to write and finish, you need to have done "real work" to get them accepted, and critical peer-review feedback might be hard to grasp.
It is, however, also one of the most important and formative parts of the project where you learn how to present, sell, market and detail your research.
There is no point in publishing a journal article just for the sake of doing it, but it is, as described above, a very important part of learning how to do research and therefore important to get through at least once during a Ph.D. project.
Halfway through the Ph.D. project you should either have published a journal article or have a plan for what your first article will contain, where to submit it to and an expected submission date. If none of this is planned, talk to your supervisor and make a plan for all of this.
Plan an external research stay
Where I'm doing my Ph.D. it is recommended that part of the project is performed externally, preferably abroad. This is to gain experience with other research environments, and while I don't have any details planned yet, I hope and expect to be going abroad for an extended period during my project.
Early in my project, I told my supervisors that I'm eager to be going, and if you are interested in going on an external stay as well, I recommend that you talk to your supervisors about it as early as possible. Probably they have contacts that you could visit and work with, and making them aware of your wish to be going somewhere will make it a lot more likely to happen.