Within the last year, I have pushed many tasks and activities to digital platforms, and in this post I will share some details about this. In my latest post, I described how I have implemented a fully digital workflow for the work in my Ph.D. project, and in this I will elaborate on software, apps and routines I use for digitalizing other aspects of life.
Beyond a Laptop: Tablet and Smartphone
In connection with my Digital Workflow, I often discuss with friends and colleagues who claim that nothing but a laptop is needed to implement and manage a paperless, digital workflow. They argue that a tablet cannot do anything that a laptop cannot, and consequently a tablet is redundant.
My own experience is different. My iPad is more portable and flexible than my laptop, and while I would always use the laptop for writing longer documents, the iPad is my preferred choice for reading and annotating documents, for writing notes and for typing shorter notes, to-do lists etc. I will not go further into the details here, but have a look at my Digital Workflow to learn more about how I use the iPad in my work.
The point for me is that a tablet facilitates the digital way of working and living. While it is certainly possible to read and annotate documents on a laptop, there are places and times where I wouldn't bring a laptop, but where I would bring my iPad, because it is smaller, more handy and more easy to handle. And here the iPad supports the digital way of doing things. If I couldn't or wouldn't bring my laptop and didn't have a tablet, I would probably print the documents to read, but this would undermine the digital workflow. And in my experience one does not fully appreciate the power and advantages of digitalization unless it is done 100%.
So in conclusion, I believe that a tablet is required to go fully digital, and as I will come back to in the following sections, a smartphone may also make the digital way of living even more interesting.
Accessing Documents, Everywhere and Anytime: Dropbox
As described in the Digital Workflow, Dropbox plays a central role as the storing place of most of my private and work related documents and files. With apps for both tablets and smartphones (iOS version), it is possible to access all of these documents on the go. Importantly, by starring documents in the app the documents are saved for offline access which might be convenient when WiFi and data traffic are not available.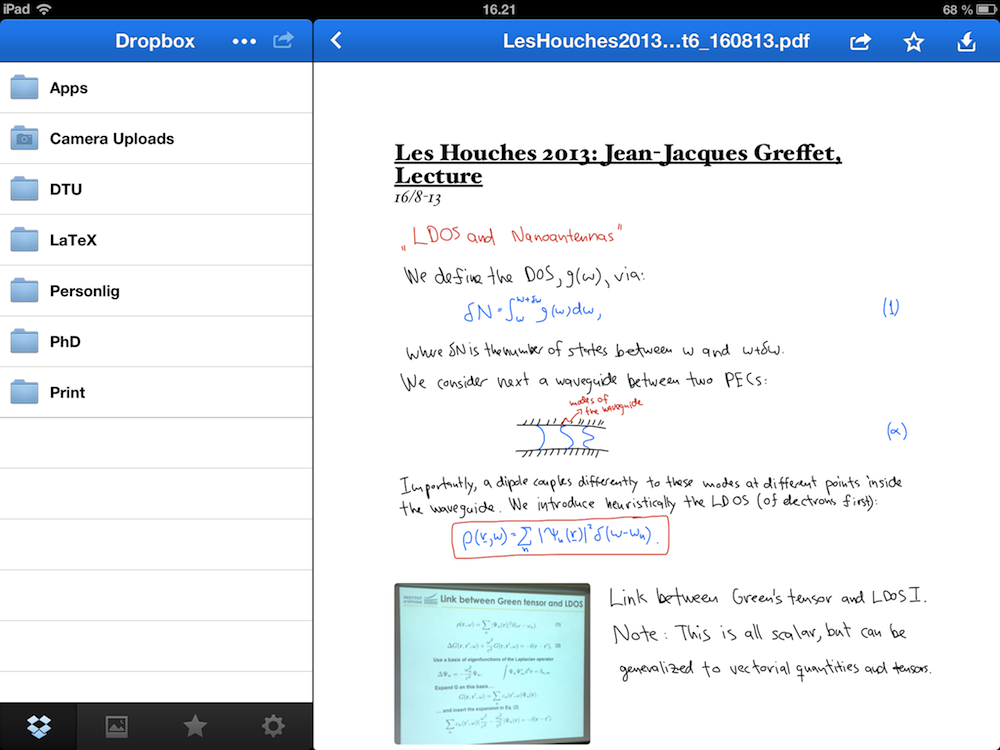 Before traveling abroad, I save relevant documents (flight tickets, bus and train tickets, hotel reservations, itineraries, maps etc.) in a folder in my Dropbox, and in the Dropbox app on my iPhone I star all of these; that way I may access these files no matter where I am. In certain airports (e.g. in Copenhagen), I may even scan the bar code on my flight reservation directly from the phone, and that way I don't need to fiddle with a printed paper version of the document, but can stick to the phone.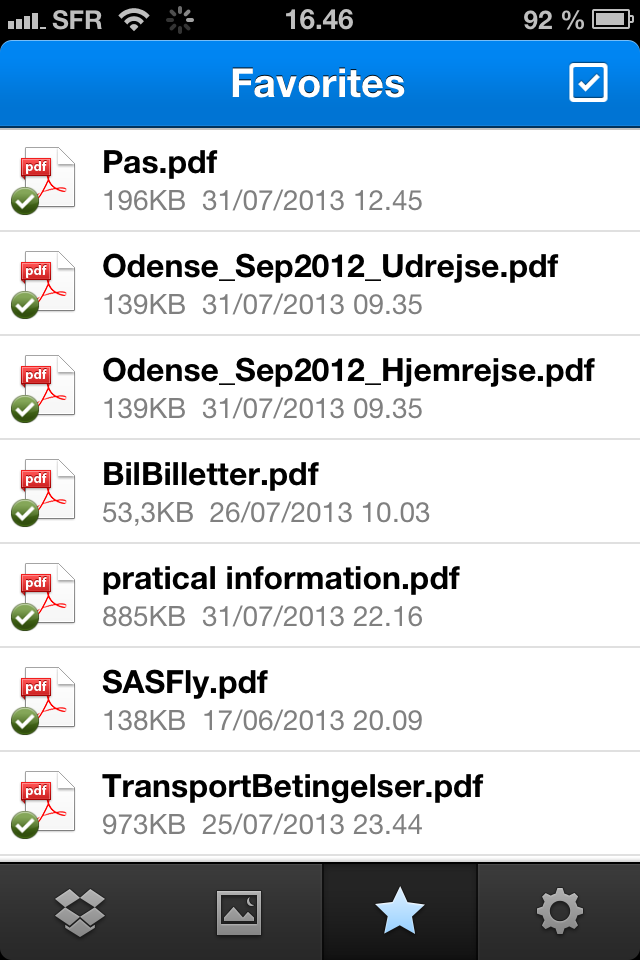 There are tons of other options for convenient uses of Dropbox, for instance direct upload of pictures taken on the phone or tablet and integration with many other apps, e.g. Goodreader for reading and annotating documents (see my Digital Workflow for details).
Inspiration and Sources: RSS-Feeds, Feedly and Reeder
For many years I had RSS subscriptions in Google Reader, without ever using these feeds for anything. I realized that I had the "wrong" feeds; mainly news and sports feeds that I anyway often looked up directly on the respective home pages – which made the RSS-feeds superfluous.
This changed when instead I subscribed to feeds from pages that I would not often visit, for instance blogs of interest and scientific journals, as the feeds now made me aware of content that I wouldn't know of otherwise. This may sound rather obvious, but it wasn't to me for years, and in case you don't see the point in using RSS-feeds you might want to consider if you have subscribed to the "right" feeds.
My feeds include a bunch of blogs, Lifehacker, Gradhacker, some comics (xkcd and PhD Comics), blog posts at ing.dk, comments for my own blog posts as well as new articles in a handful of scientific journals.
Not long after starting to use Google Reader and my RSS-feeds more actively, Google Reader was closed, and an alternative was needed – which for me became Feedly. Feedly picked up many of the former Google Reader users, has a good infrastructure (see their blog) and integrates conveniently with many other services. Importantly, it has iOS apps for both iPhone and iPad, and while this app could be better, e.g. with access to tags, it means that I can access my RSS-feeds on all platforms. Feedly's integration with other services allows to use other apps, and on the phone I use the Reeder app instead of the native Feedly app.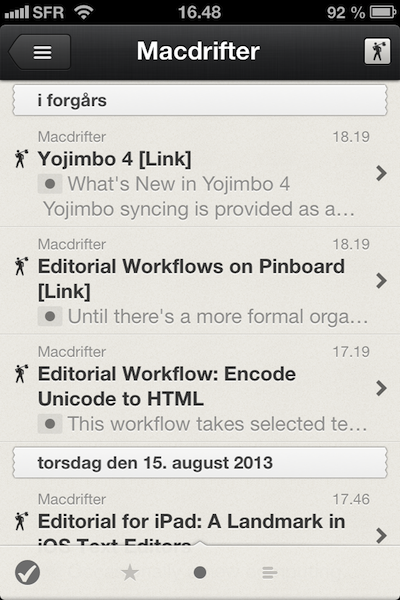 The feeds provide information and inspiration, for blogs posts, for new apps, for interesting reads, for new research results and a lot more, and I find the regular browsing through my RSS-feeds indispensable. Sometimes I don't have time to read all of it through in detail, and I then put the interesting feeds in the "Saved for Later"-folder in Feedly which via an IFTTT recipe exports the feeds to Readability; more on these services in the coming sections.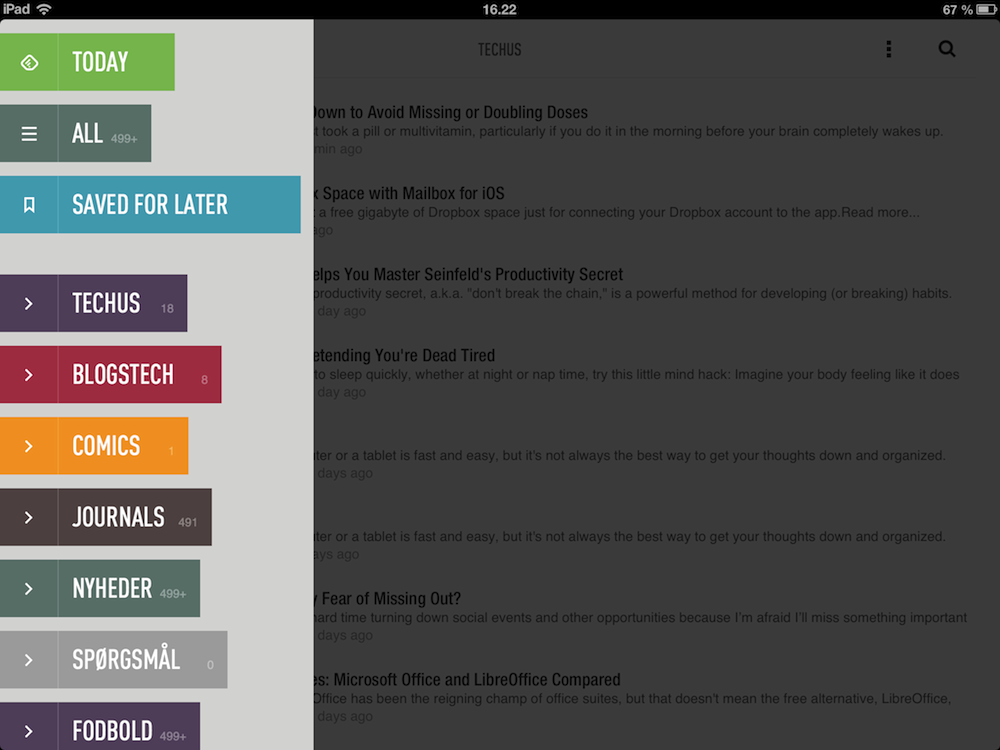 Alternatives to Feedly include NewsBlur and The Old Reader – among many others.
Reading on the Go: Readability
As mentioned in the previous section, I don't always find time to read the interesting RSS-feeds as I browse through my feeds, and instead I save them in Readability. Readability is a service that removes the clutter from articles and posts and saves the text and pictures of these stories – for offline reading. It has browser addons which makes it easy to save interesting reads on the computer, and needless to say it has apps for iPhone and iPad.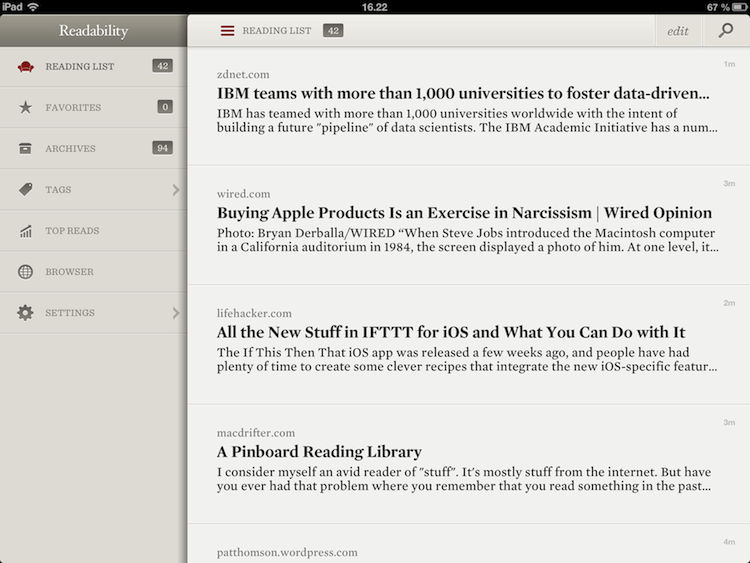 So when I am on the go, I may open Readability and read the articles or posts that I did not find time to read previously. Again, this is also possible with a laptop, but is much more interesting with a tablet or smartphone that I bring everywhere and that are easily handled in most situations.
Alternatives to Readability include Instapaper and Pocket.
Notes, Lists and Elephant Memory: Simplenote and Evernote
For all sorts of notes and lists, I use Simplenote which is a service for writing notes – simple notes. The notes may be written via a web interface and via native Simplenote apps (iOS version), and they automatically synchronize to the Simplenote server which makes them available anywhere and at anytime.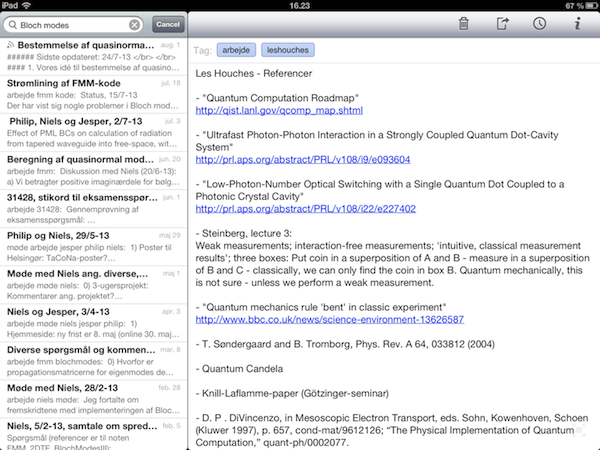 The Simplenote interface is basic, without text formatting options and other advanced features; this may seem limiting, but allows to focus on the contents of the notes and nothing else. I use it for to-do lists, notes from meetings, as a journal for my Ph.D. work, for my shopping list and much more – all of which do not require any advanced formatting or typesetting.
It is possible to share notes with others in Simplenote, and if formatting is needed Markdown is available. A couple of times I shared notes with my Ph.D. supervisor, related to my ongoing work, and to make them more readable I used Markdown for these.
Another thing I like in Simplenote is its search feature; it is fast and searches in both titles, tags and bulk text of the notes. Simplenote does not have a folder system to organize the notes which further allows the focus on the contents of the notes and nothing else, and with its efficient search functionality this works nicely.
Another popular note service is Evernote which has a lot more features and options than Simplenote. Evernote, with its elephant logo that refers to the long memory of an elephant, allows to create notes and notebooks for organizing all sorts of notes, and the notes can be formatted and have files attached, e.g. pictures or PDFs. Thus, it is more versatile than Simplenote, and it can be used for a lot more than Simplenote; but the simplicity of Simplenote, as explained above, makes Simplenote my preferred tool for writing notes.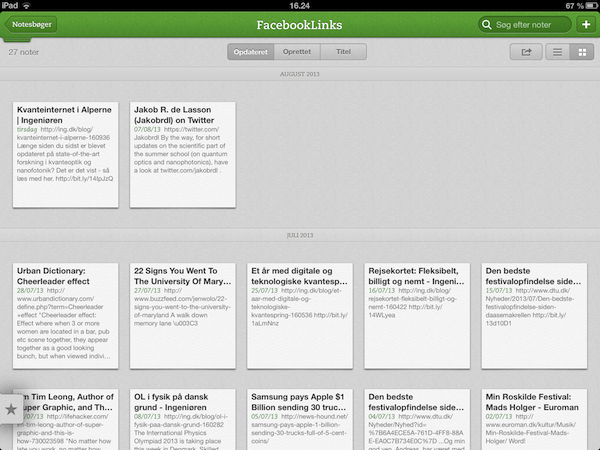 In turn, I use Evernote for information and files that I don't access regularly, but which I prefer to store in an organized manner. For instance, I have a folder in Evernote that contains scanned receipts of things I bought; that way, I have a copy of the receipts in case I need it. I rarely need to access these receipts and therefore keep it in Evernote. By the way, I use the app Genius Scan to scan receipts and other documents, either with my iPad or iPhone. Does your laptop have a built-in scanner?
I also use an IFTTT recipe to save all the links I post on Facebook as a note in a notebook in Evernote. Again, I don't need these links all the time, but every now and then I need to recall a story or link that I posted on Facebook, and a quick look in Evernote gives me the link.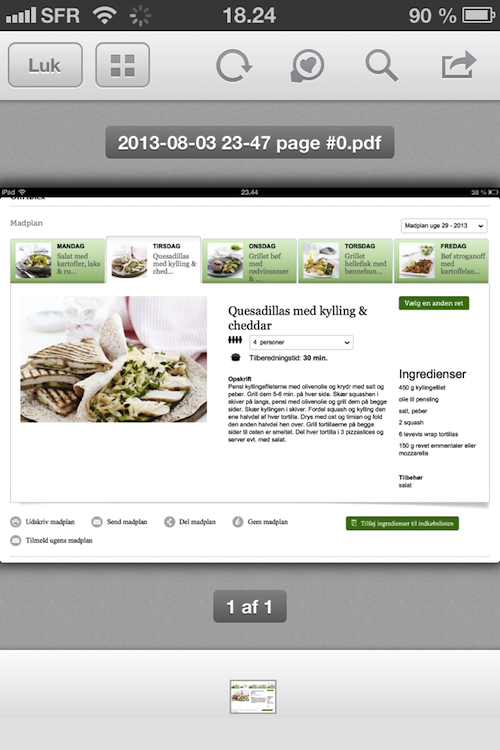 As a third example of many others, I store recipes in Evernote, and Evernote even developed a dedicated food service (that I don't use, however). Only imagination sets limits for the use of Evernote as a long-term memory; Lifehacker has plenty of stories and ideas for the use of Evernote, and for inspiration you may start here.
The Automation Glue: IFTTT
If This Then That (IFTTT) is an online service that may connect a large number of services, to make them "talk to each other" and interact. In previous sections, I mentioned the Feedly-to-Readability and Facebook-Links-to-Evernote recipes that send "Saved for Later"-feeds from Feedly to Readability and Facebook links to an Evernote notebook, respectively.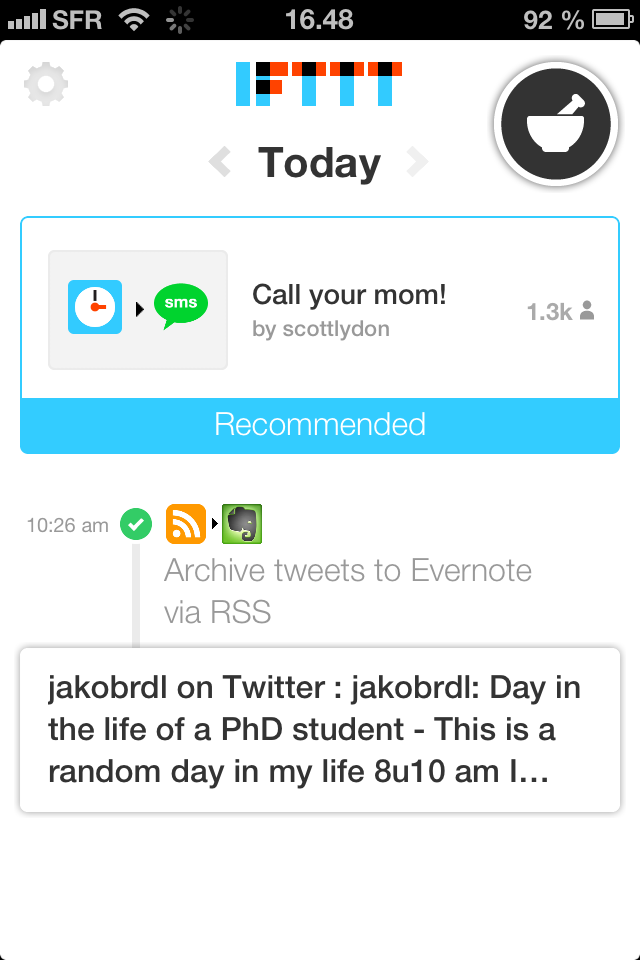 There are plenty other recipes, and again only imagination sets limits for the possibilities. Recently, iOS apps came out, and this, for instance, allows to automatically save all pictures on the iPhone to a folder in Dropbox.
I currently use five different IFTTT recipes, but I foresee that I will be using it more and more in the future; automation is an incredible time saver! Therefore, I urge you to try it for yourself to "Put the internet to work for you".
Music and Books: iBooks and Spotify
Reading books on the iPad works very well, and even though the reading experience on a Kindle might be slightly better, I have had no problems in reading several books on my iPad. The problem people often bring up for reading on the iPad is the backlighting which may tire the eyes after many hours of reading – the same way looking at a computer screen does. However, the built-in book reader iBooks has a "Night" theme where the background is black and the letters are white; that way, the backlighting is effectively removed. Another great feature of iBooks is the built-in dictionary which makes looking up words in the text during reading seamless.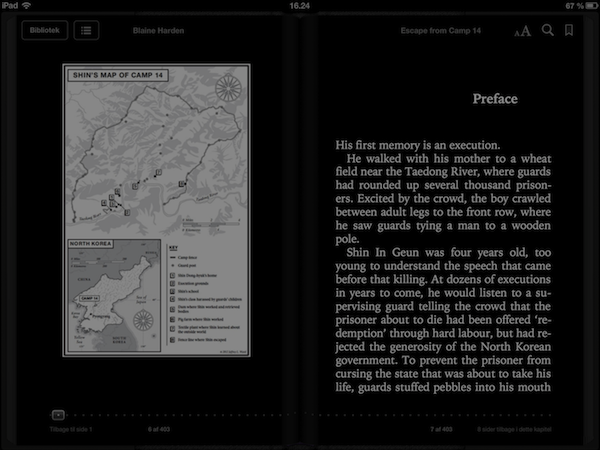 Speaking of books, I should mention that I also read printed books and receive two dead-tree newspapers every week. These are alternatives to reading on a screen, and I enjoy putting away my gadgets (and their inherent distractions!) and read on good old paper.
For music, I use Spotify and radio streaming. At home, I have an Airport via which I stream music wirelessly to my loud speakers. In the Spotify iOS apps, music can be downloaded for offline listening, and when I go for a run or travel abroad I bring my favorite music with me using this.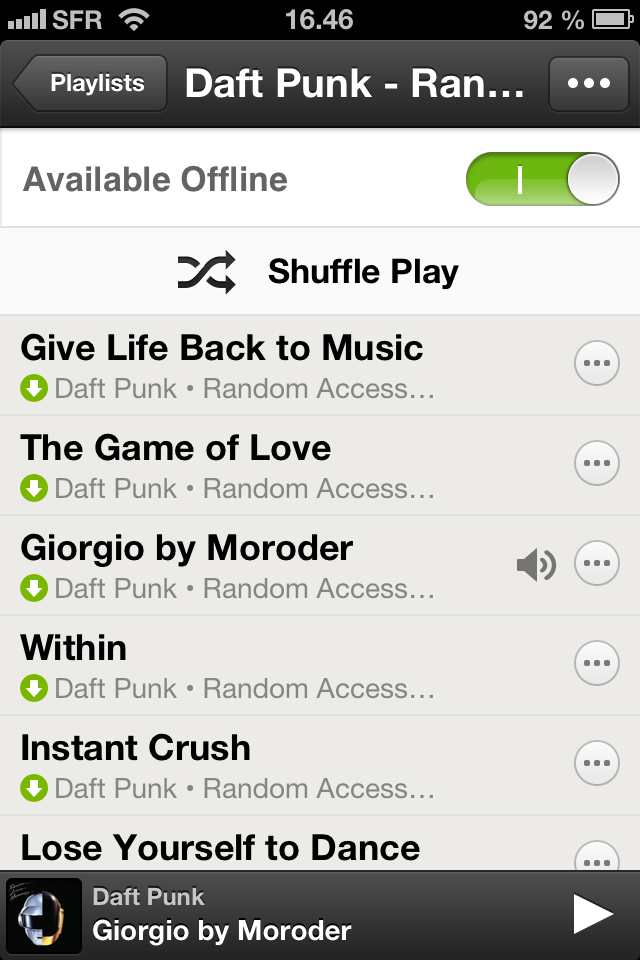 Likewise, when I visit friends that have an Airport I may stream music from Spotify directly to their loudspeakers, and in this way I always bring along a huge library of music. The more I use Spotify, the more I get convinced that renting, and not buying, music is the solution for the future; I don't feel like piling up CDs at home or only listening to the music I have bought digitally, but prefer the freedom of choice and flexibility that renting with Spotify gives.
Why not Get Started with Living Digitally Today?
The above outlines the essentials in my way of living digitally. As discussed initially, this becomes more interesting with a tablet and/or a smartphone with which many digital services can be accessed and used anywhere and at anytime.
I love the possibilities that powerful gadgets such as tablets and smartphones give, and I hope to have inspired you to looking more into this yourself; why not get started with living digitally today?